Hi! I'm Tracey, and I'm a food gardener.
My dream is to promote food gardening, and share skills and knowledge to enable home growers to supplement and bolster their food resources in a healthy and sustainable way.

"Plants do all the hard work, we just have to give them what they need to do it."
I've grown plants since I can remember – I was inspired by my grandparents, and my mother, who always had something potting somewhere. (My story about how they, and especially Fred, inspired me is below.)
What I love about plants, and it's something many gardeners take for granted, is that they do all the hard work … we just need to give them what they need to do it whether or not we're a hobby gardener, someone seeking a self-sustainable lifestyle or a production farmer. It's the process of growing something, and being self-sufficient in some way, that is the most rewarding for me.
Vegetables and fruit are both beautiful  and functional. My own garden is a mix of food-producing plants and trees, and indigenous and exotic shrubs. I love to see mixed borders which are truly mixed – with herbs, flowers and vegetables.
There is always something to learn in a garden, and from other gardeners. It's wonderful to have the sun and the rain on one's skin, but it's also amazing to discover a hidden gem, to swap or buy a new plant, to share growing tips with others, to take cuttings and propagate seeds. My garden is a place where I can work up a sweat, or mooch around and peer at plants, or pull weeds. And it rewards me with produce for my kitchen and family.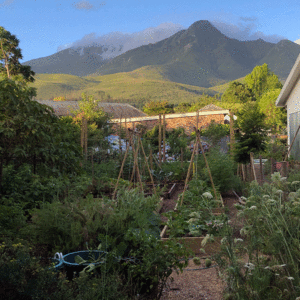 I'm following in my late grandfather Fred's footsteps. I feel close to him when I'm working in my garden.
Fred was a tailor by trade. During the war, as a young father, Fred went to Europe to serve as a medic. (He was mentioned in dispatches for gallant and meritorious action in the face of the enemy.) Meanwhile, my grandmother Dorothy (Doff)  farmed her London allotment to supplement their pantry in a time of food rationing, and to provide resources to the war machine. Hers was a 'victory garden'.
After the war the British government sponsored re-training for returning soldiers and Fred became a nurseryman and gardener. Things didn't look too bright in Europe at that time so Fred and Doff boarded a ship with their two young daughters and set sail for Africa.
After a long journey they set about starting a life with their young family, including my Mom. 
My first plant was a lithops that Fred gave me as a child (I only very recently  mastered growing them!). Fred's gardening skill and passion gave his family an income, and sustenance. His plant interests extended to judging at garden shows, running garden clubs and broadcasting a gardening series on the radio.
Fred was still gardening in his mid-80s. He gifted what he and Doff didn't need, or sold it at the weekly farmers' market. Every Saturday Fred and Doff would pack produce and plants, a table and tablecloth, chairs and a flask of tea, and set off to sell and chat to like-minded people.
Fred's last nursery was formed under a huge blackwood where he and Doff lived in their retirement. Fred wasn't one to sit around though – he was out with the sparrows each morning, peering at his plants with his arc-eyes (from his job as a welder). He was warned by the property trustees to not get too 'established' as they were going to cut the tree down and build on the space soon. By the time Fred passed away a decade later, there hadn't been any building. In fact, twenty years later I pass by that tree from time to time, to remind myself that limitations are what others most often place on us.